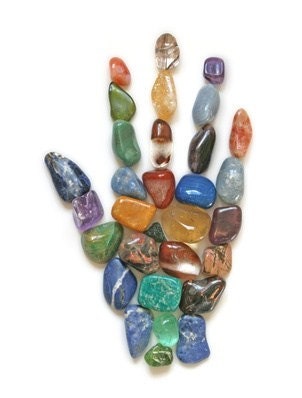 It's February and the birthstone for that is Amethyst, one of my favorite gemstones.
This is one of many parts of a series for Gemstone meanings and birthstone month as well as healing properties.
Each post in this series will contain info about a gemstone from alphabetical order. This entry is for gemstones starting with Letter A. 
AMETHYST
February Birthstone
The ancient Greeks and Romans believed Amethyst would ward off the intoxicating powers of Bacchus, and keep the wearer clear headed and quick-witted. For centuries, Amethyst has been associated with many myths and legends as well as religions in numerous cultures.
Not only is it the beautiful color that makes this gem so popular but it is also widely available in difference shapes and sizes which makes it more affordable. Amethyst complements both warm and cool colors so it looks fabulous set in both yellow and white metals.
This unique ability means it enhances almost every color in your wardrobe. Now I will list all gemstones I know of that start with A. For Every Part, I will do the next letter in the alphabet :  

Abalone is a beautiful shell of the sea. It is believed to hold great healing and soothing energy, encouraging a calmer demeanor. The multidimensional, pastel rainbow colors enhance feelings of peace, beauty, compassion and love. The Native Americans believe this shell to be a sacred shell and use it, along with sage, to carry messages to Heaven. Abalone is excellent to wear when you are in need of guidance in a relationship. 

Agate is one of the oldest of healing stones. As a stone of strength, it was used in ancient civilizations, on the breastplates of armor, to bring warriors strength and make them victorious in battle. Agates are very protective stones, making them the perfect stones for amulets and medicine bags. They also bring us courage, emotional strength and self-confidence.

Amethyst is a natural stress reliever that encourages inner strength and brings wealth and a strong business sense to its wearer. It is a crystal of spiritual growth and protection. It brings clarity of the mind to their owner and helps you to become more in tune with your feelings so that you get to know yourself on a much deeper level. Amethyst crystals repel negative energy and attract positive energy, making them a wonderful protection stone for the home. They have one of the strongest powers to rid your home of any negative influence.  

Aquamarine clears the mind, balances emotions and strengthens personal power. In ancient times, seamen carried this stone to protect them against the dangers of the sea. It also provided them with courage. Aquamarine connects with the Heart Chakra, helping you to realize your innermost truth and promoting self-expression. 

Aventurine is one of the premier stones to attract luck, abundance and success. It comforts, harmonizes and protects the heart, helping also to attract luck in love. Aventurine is a manifestation stone that can help you bring your dreams into reality. 

Azurite is often referred to as the "Stone of the Heavens," as it aids in the pursuit of the heavenly self. It is believed to awaken psychic abilities, helping you to recognize intuition and spiritual guidance. It calms and relieves mental stress, helping you to clear your mind and dissolve any blocked energy. Native Americans valued it as a sacred stone for communication with Indian Spirit Guides. The Mayans are also said to have used it for sacred and mystical communication.